We are a Turn-Key Solar EPC and System Integrator Company. From Conceptualizing, Designing, Supply, Testing, Installation, Commissioning and Providing comprehensive O&M (Operation & Maintenance) of any kind of Solar Energy Installation, be it, Rooftop Solar PV Power Plants (Grid-Tied, Off-Grid, Hybrid), Solar Street Lighting Systems, Solar Water Pumping systems, Solar Water Heating Plants; we provide state-of-the-art, technologically most advanced solutions to the complete satisfaction of our Customers.
Embarked upon a journey in 2015 (this Company was registered in 2016) with few baby steps and boot strapping, in just about few years time we have been able to establish ourselves amongst the reputed names in Solar EPC business.
This has been made possible due to the hard work, passion, focus, commitment and integrity of the gritty Team of Sunstone Solar Solutions!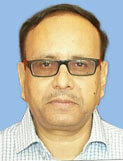 Sanat Kumar Mishra, Founder & CEO
Sanat is an Engineer, an IIT, Kharagpur alumnus with 35 years of industry experience both in the country and abroad. He has served many renowned Companies in Leadership positions across the sectors, spearheading Profit Centres in a very challenging and competitive environment. He has many success stories to his credit.
Ramakant Tiwari, Director
Ramakant, also an Engineer, an ISM, Dhanbad (now an IIT) alumnus, having dwelled most of his 3 decade long career in Coal and Energy Sectors serving some big names of our Country like Coal India, Hindalco-Essar JV, etc right at the helm in leadership roles, possesses critical skills to handle large group of manpower in successfully executing very large and complex Projects.

"J. K. with a B.Tech. from IIT, Kharagpur and PGDM from IIM, Ahmedabad has a  Dynamic career of over three and half decades that reflects pioneering experience and year-on-year success in achieving business growth objective in diversified sectors- Mineral Steel and Power. Career begun with M/S Hindusthan Copper Ltd. And then worked for Walchand Group, FACOR, BEML, MMTC, Bird Group of Co., MATS Mineral and Logistics, Bay Queen Exports in the areas of Project and Marketing Management, Liaison and Team Management, Business Development and Trading etc. Presently working for organizations in areas of Project Management, Business Development and Trading etc. Also associated with a developmental organization in the areas of livelihood matters, health and water sanitation and hygiene program (WASH) in Odisha."
To Become a global player in Solar Energy Solution provider.
We wish to excel in providing State-of-the-art Technology solutions to our Customers opting for any kind of Solar Solutions with complete satisfaction and value for their money.
Commitment To Delivery, Service & Quality
Customer satisfaction & Respect the value of his money
Constant Innovation, Out-of-Box Solutions & Up-gradation
Integrity
Team of Hands-on Engineers with loads of experience
Have acquired in-depth knowledge & Training On Solar Energy Products & Technology
Possess the ability to think out-of-box
Tailor-making the solution for each individual customer
Bring in creativity to every solution


GSM Design & Engineering Solutions Pvt Ltd, New Delhi
Eli Eli Engineering, Waidhan, MP